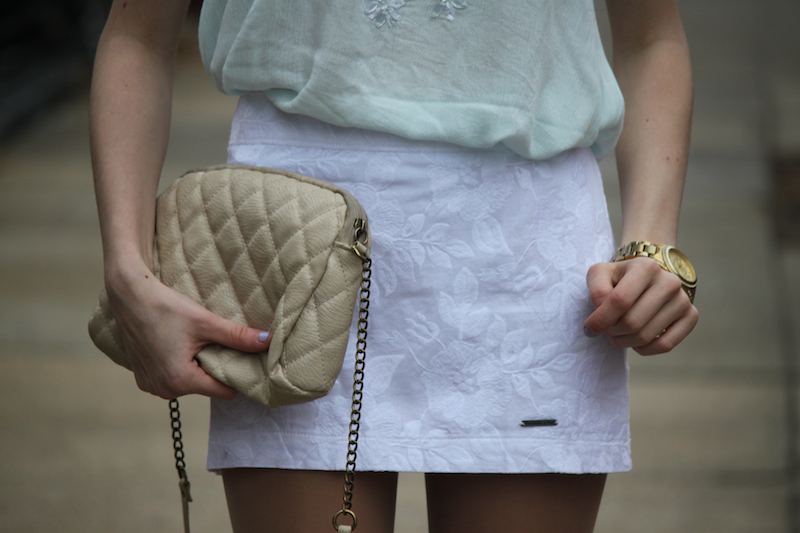 Top/Bluzka:
Abercrombie & Fitch,
Skirt/Spodnica:
Abercrombie & Fitch,
Bag/Torebka:
Bershka,
Jacket/Kurtka:
Brooks Brothers,
Shoes/Buty:
Jimmy Choo
Hello April! Oh how much I love you! One month closer towards summer and since it is getting warmer out, I can finally incorporate some 2014 spring trends into my outfits. As you may have seen, among those trends, pastel colors and floral prints are dominating the industry once again. With those two trends I created a very simple, but feminine and classic outfit perfect for the spring. I hope you like it!
Witamy cie Kwiecien! Ale fajnie ze wkoncu jestes znami. Jestesmy o miesiac blizej do lata i co raz cieplej sie robi. Bardzo dobrze! Mi sie to podoba bo wkoncu bede mogla wykorzystac obecne trendy w swoich stylizacja. Dwa trendy ktore wlasnie dominuja mode w tym sezonie sa pastelowe kolory i kwiatowy wzor. W dzisiejszej stylizacji zdecydowalam wykorzystac te dwa obecne trendy i stworzylam prosta, ale kobiecyjna i klasyczna stylizacja na wiosne! Mam nadzieje ze sie wam spodoba!
I just also wanted to say the contest for Romwe has ended. The winner was chosen on Random.org and numbers were given based on the order of the comments. Congratulation Paula under the email tabkpaula98@gmail.com! We would like you to contact us immediately for your reward.
Chcialam jeszcze przekazac ze zakonczyl sie konkurs z Romwe. Wylosowany byl numer 10 na Random.org! Gratulacje dla Pauli pod emailem- tabkpaula98@gmail.com i prosimy o pilny kontakt aby odebrac nagrode.